What A Realistic Dildo Can Do For You?
Introduction to The Types of Dildo:
A dildo is a sex toy designed for sexual penetration or other sexual action during masturbation or with sex partners and is frequently blatantly phallic in form. Many sexual pleasures, such as clitoral stimulation, vaginal penetration, and anal penetration, can be enhanced using a dildo. Dildos are formed like erect human penises and can be constructed out of a variety of materials. They're usually around the same length as an erect penis, 4–6 inches (10–15 cm), although some are a little longer. The diameter of a dildo is usually 4–5 inches (10–13 cm). It also comes in a variety of forms, some of which are not penis-like. It also comes in a variety of colors.
A dildo can be divided into a classic dildo, a realistic dildo, and a shaped dildo
The classic dildo is a great place to start; they're generally made of silicone, TPR, or rubber and can be plain or patterned for added stimulation.
The realistic dildo is a type of dildo with a penis-like form and size. This dildo is ideal for someone who wants a dildo that resembles a real penis in appearance and feels. Realistic dildos are constructed from true-feel materials that appear and feel like actual flesh and are often detailed with veins and balls. If suitable, realistic dildos can be used with a strap-on harness or a suction base for hands-free usage.
  It was once only used for female masturbation, but it has since been included in the play. It has a suction cup for hands-free use, or it may be used with a strap-on harness if it is possible, and it can be used to masturbate by adsorbing it to a slick surface like a bathroom wall or flooring.
Dildos come in a variety of shape, some of which don't resemble a genuine penis, such as the realistic dildo that imitates a penis. A dildo is particularly useful since some are somewhat curved, which helps to stimulate your g-spot or prostate, depending on how you use it. Some are smooth, while others have rough ridges that aid in sexual pleasure.
How To choose a Realistic Dildo?
Looking down in the middle of joyful activity and finding a luminous green object or brilliant rainbow rod poking out might be a real bummer. Especially if you've just concocted a complex dream about a real penis. While we don't judge anyone for their sexual preferences, we do recognize that a realistic appearance and feel are important to many users.
But, no matter how much acclaim a dildo receives, you should consider these things before making a purchase.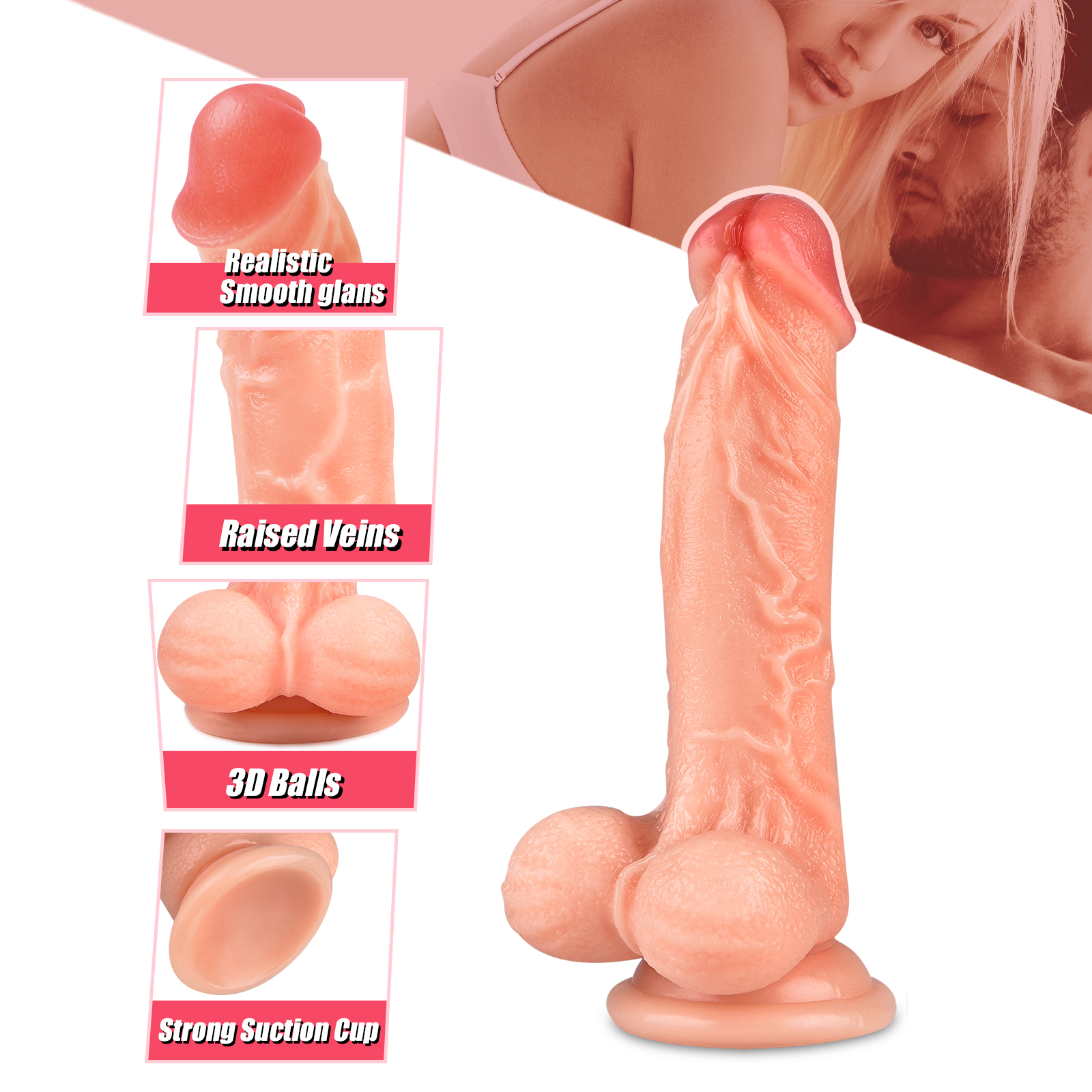 Consider the circumference/width
Begin your dildo search by determining the diameter you're searching for. For most individuals, measuring a dick they've placed into their body—whether it's linked to a human or another dildo—is all that's required.
For measures, you may also use your finger as a springboard. Calculate how many fingers you like to have comfortably inserted, and then use a fabric tape measure to measure the breadth of those fingers.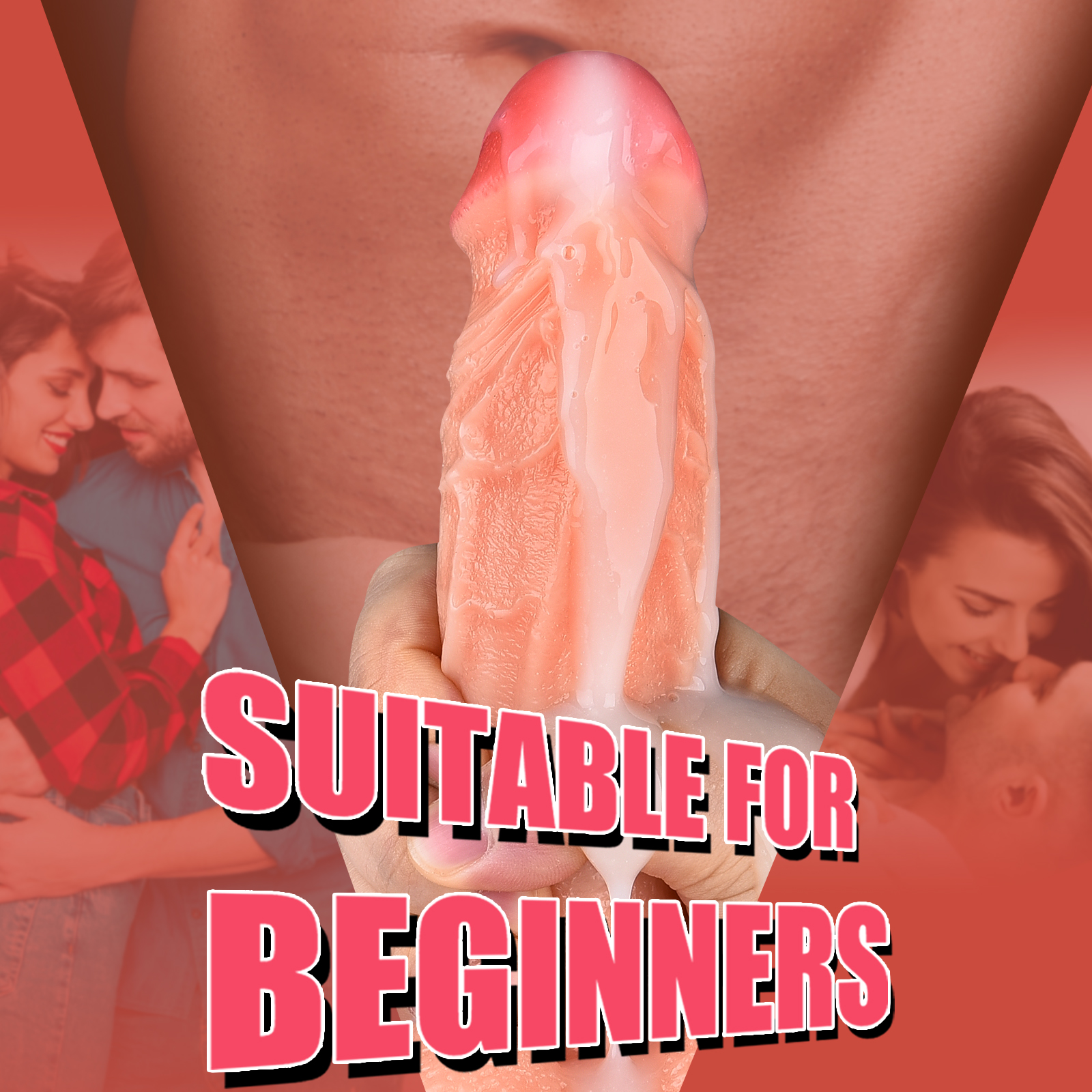 If you've experienced penis-in-hole intercourse and thought your penis was average, it should be between 1.4 and 1.55 inches in diameter. When in doubt, though, go with the lesser size. (Keep in mind that if it's too big, it can hurt; if it's too little, you can still use it.)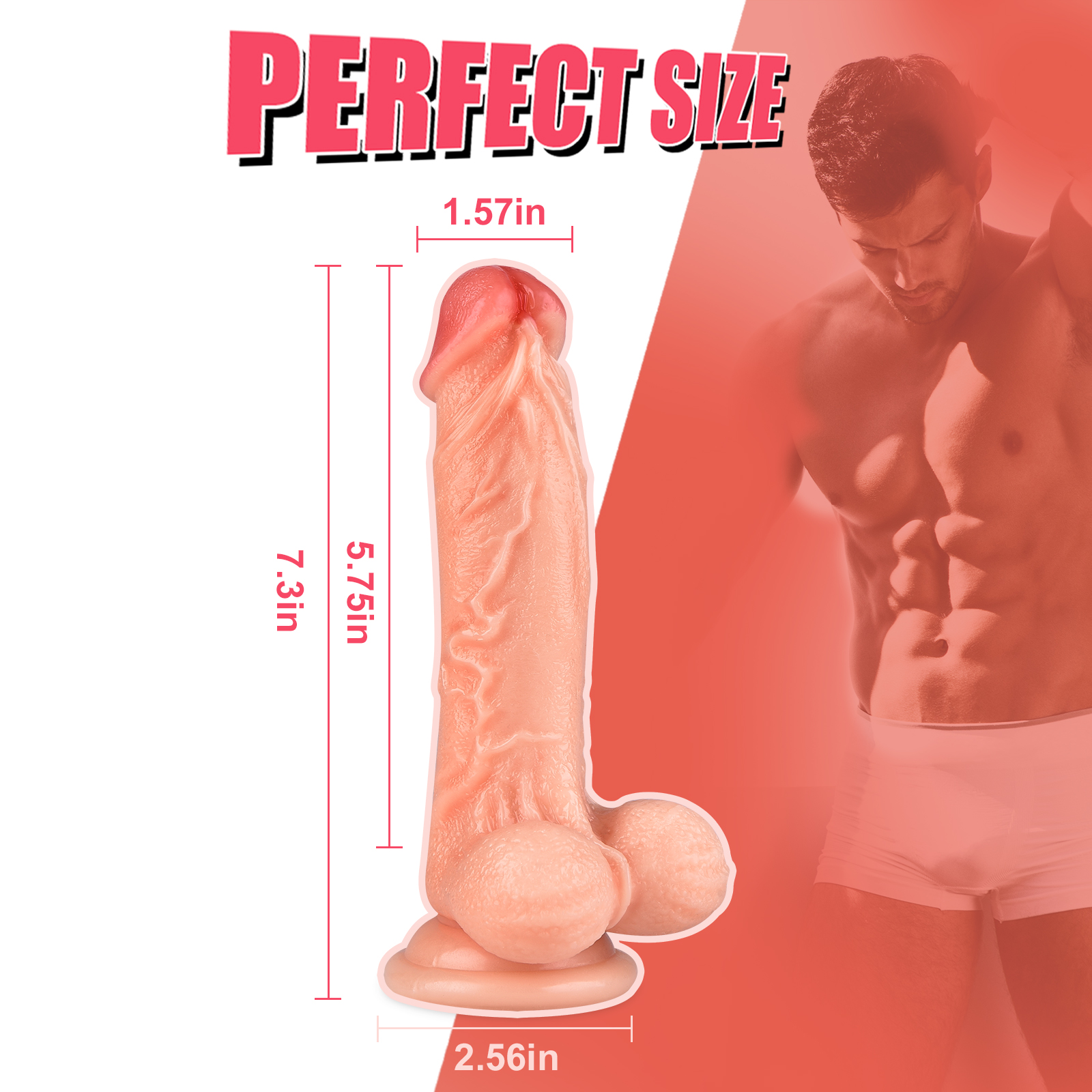 Stick to dildos between one and one-quarter inches in diameter if penetration is still new to you and/or penis-in-hole intercourse hurts—and consider investing in a dilator or dilator kit.
After you've determined your optimum width, you may continue to establish your ideal length.
The typical biological penis is five to six inches long, however, most individuals feel that dildo length is a very personal choice.
Why? It all depends on how you want to use your dildo.
If you love a lot of quick, hard penetration, make sure the toy is long enough—or invest in a penile restriction. Otherwise, you might easily bottom out (against the S-curve within the butt or the cervix in the vagina) and experience some excruciating pain.
Consider the available materials
There are many of them, but not all of them are worthwhile. Some of them even lie. Yes, it's true. When seeking a realistic toy, there are a few materials that will almost certainly be available in any store. Jelly, silicone, rubber, PVC, and "Cyberskin" are examples of these materials.
When we say that some of them lie, we're referring to the fact that they're frequently painted to seem like other materials. They'll have strange odors and be badly built. They also typically include phthalates, which can induce unpleasant side effects.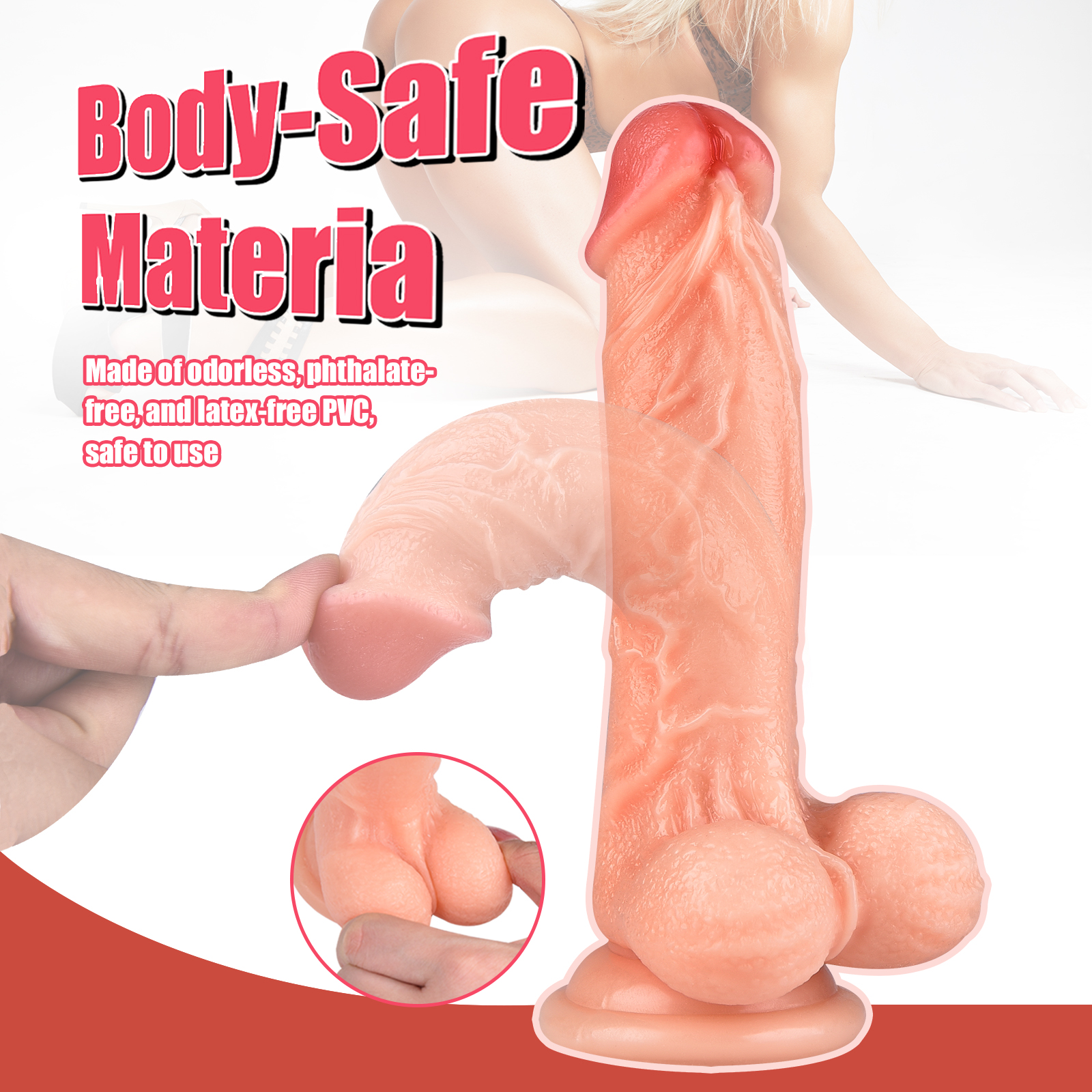 Silicone dildos are by far the greatest option. You may have to make a financial commitment, especially if you insist on a specific brand, but it will be well worth it. Because they are non-porous, they are easy to clean and disinfect: no bacteria, mold, or mildew residue. They endure a long time and are simple to maintain. Because silicone is available in a variety of densities, you may pick between a soft, squishy, or hard sensation.
If 100 percent pure silicone isn't available right now, glass is the next best alternative. Don't worry, this isn't like cookware or other household items; it won't break even if you abuse it. Simply choose a good one.
Consider the general shape and specific features
Again, think of your favorite experience and use it as a guide for form. Straight as a ramrod? Is it a little curved? Is it better to have a blunt or a pointed nose? Is it proportionate to its balls or not? Even more than the substance, the anatomy of the toy will decide the impact you obtain.
In the sculpting of a dildo, the texture is also important. Is it possible that it will have veins? Odd bumps and angles, especially on glass dildos, may not appear lifelike, but they can produce a far more genuine feel when used.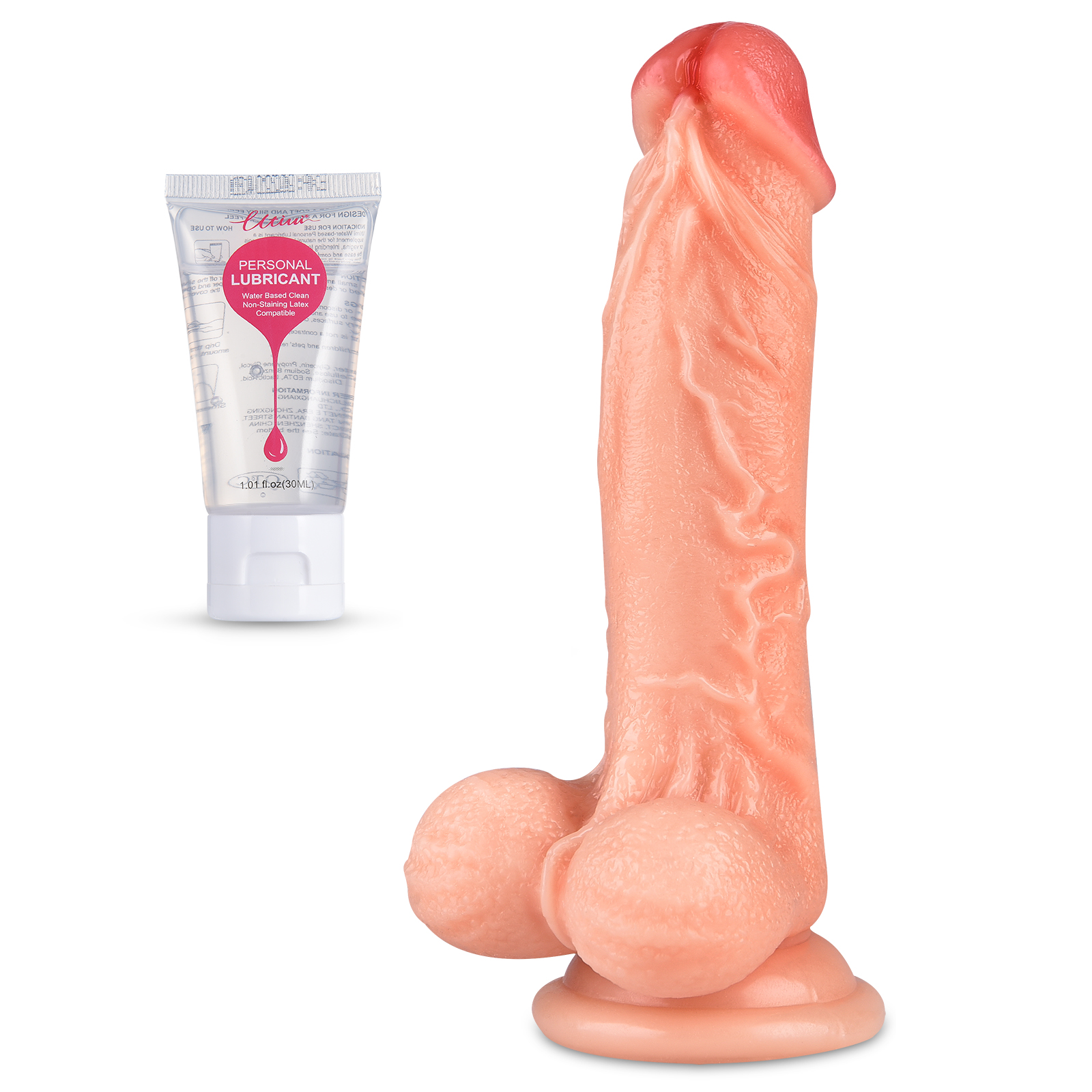 Consider compromising some model accuracy in exchange for more practical features. For discretion, choose a small one, especially if you want to take it with you (or everywhere). For hands-free play, consider suction cup bases. In the end, realistic enjoyment triumphs above realistic appearances every time.
When it comes to purchasing anything, money always comes into play, and sex toys are no different.
Higher-quality materials with more features are often more expensive. Brand names and manufacturer warranties are other important considerations: Toys with extended warranties may be more expensive than alternatives.
It's nearly always worth it to put money down for a few months to get the dildo you truly want rather than the one you can afford right now. In the $50 to $80 range, you may discover high-quality, body-safe, and pleasant dildos.
Glass dildos may be even more affordable, with typical, mass-produced variants costing less than $40.
With careful maintenance, a dildo produced from high-quality materials may endure for years, decades, or even a lifetime.
Suction cup bases are integrated into several dildos. When placed firmly against non-textured, clean, flat surfaces (typically tile or glass), these bases can aid in the retention of the sex toy. Suction cup bases may keep a toy in one place and provide more use alternatives, especially for persons who want to use their hands elsewhere during enjoyment.
Taking all of the above into account, choose a realistic dildo, test it, and assess its efficacy.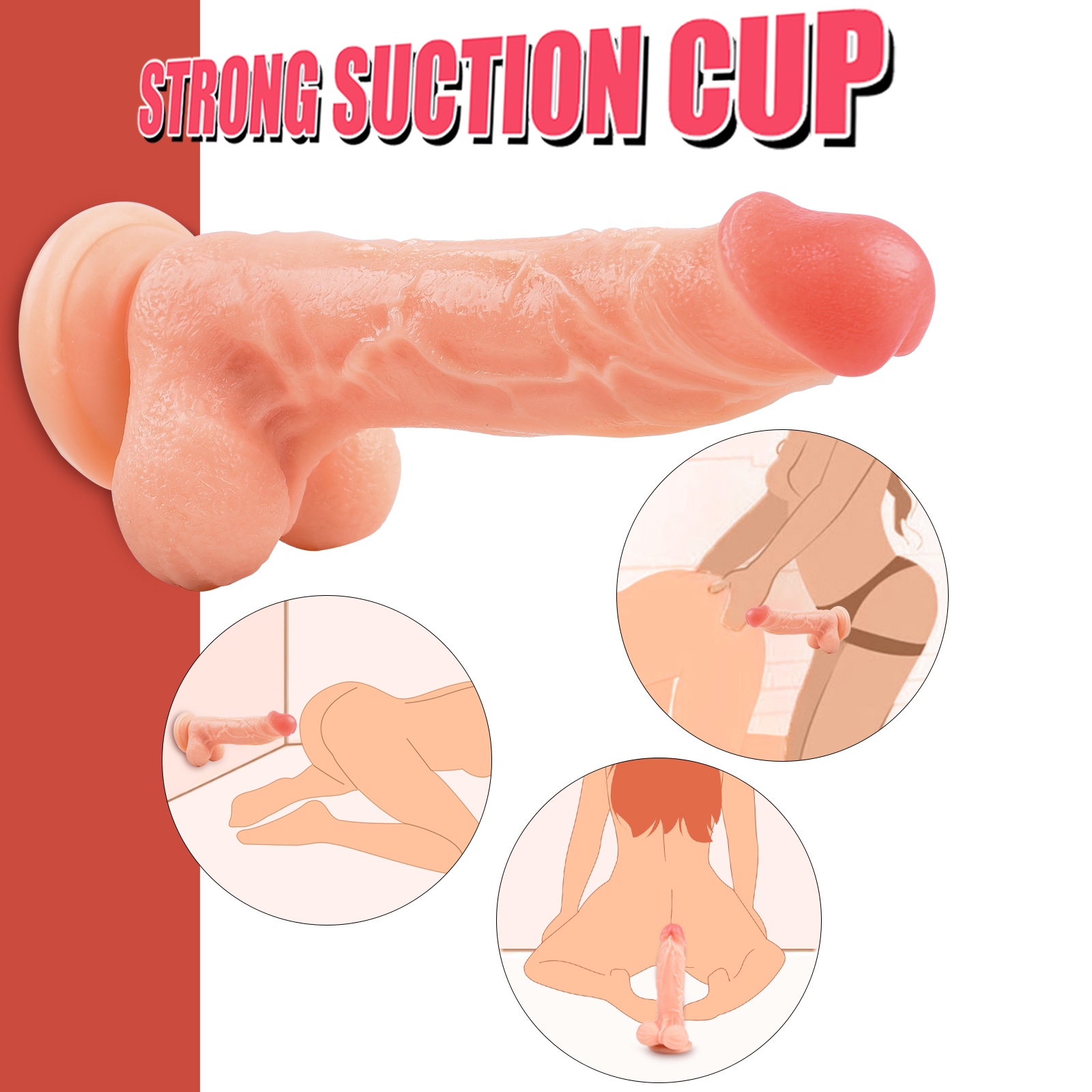 UTIMI realistic dildo has the 3D balls coming with a smooth lifelike head that brings you an ultra-real visual impression and inside pleasure. It's suitable for beginners with a total length of 7.3"/18.5cm, an insertable length of 5.75"/14.6cm, and a diameter of 1.57"/4cm, the thick dildo will offer multiple play ways for anal beginners or experts with incredible excitement, for example, women riding, anal sex, deep throat training, and G-spot stimuli, etc.
The diameter of the suction base is 2.56"/6.5cm, which can be sucked on any smooth surface so that you can enjoy a Hands-Free Play to explore more positions.
It's a body-safe material made of odorless, phthalate-free, and latex-free PVC, the ultra-soft huge dildos are not easy to deform, but safe to use.
The women's sex toy features 100% water resistance and easy to clean performance. Contains a water-based personal lubricant recommended for use with the dildo
How To use a Realistic Dildo?
Make sure you are relaxed
Turn yourself on normally before using your dildo for the first time (whether that's with some ethical LGBT porn or free erotic literature). It's critical to get 'in the mood,' since if you're nervous or preoccupied, penetration will be more difficult - and less satisfying.
Use a lot of lubricating oil
With any form of sex toy penetration, lubrication is required, and this is especially true for dildos. Water-based lubricants are suitable for practically everyone in almost every circumstance.
Because the anus does not naturally lubricate like the vagina, silicone-based lubricants stay longer and are better for anal penetration. However, if your dildo is made of silicone, you should avoid using silicone-based lubrication and instead use water-based lubricant.
Before you use the dildo, make sure it's lubricated. Also, keep in mind that if you're using the dildo for anal penetration, you'll probably need to replace the lubrication at some point.
Take it slow and become familiar with the feeling
Examine how the dildo feels when rubbed on the exterior of your body before entering it. Massage and stimulate external genitalia like the vulva, labia, and anus using it. You're just teasing yourself here as you work your way up to the penetration. Start slowly pushing the dildo in and out once you've started penetrating yourself with it, and respond and adjust to how it feels.
After you've gotten the hang of manipulating the dildo, try experimenting with other rhythms and speeds. Feel the difference between a gradual, steady movement and one that is quick and unpredictable. Find out what works best for you and then share that information with your spouse.
Utimi Suction Cup Dildo is your best choice. GET YOURS NOW>>
https://utimi.com/collections/adult-toys/products/realistic-dildo-with-strong-suction-cup-7-3-inch-silicone-thick-dildo-for-beginners-deep-throat-training-adult-toys-g-spot-for-women